Tour Guiding Leadership, Witrand Ranch, Little Marico Bushveld, South Africa
We as South Africans are very much involved in African tourism, and so could you. We are all required to adhere to the same requirements and criteria to operate in these countries. We all have to abide by the laws of other African countries, and if you are willing to go through the processes like we do, Africa is ready for you!
Allow us then not only to open up Africa for you, but also to prepare you for a beautiful career with plenty of opportunities, on a fantastic continent with friendly people and an incredibly diverse natural resources with fantastic panoramas and vistas, not to mention the spectacular sunsets in the drier western regions.
Bucket list experiences
Our learners can also tick off a few items off their bucket lists:
Cage diving with great white sharks (Gansbaai)
Help with research on the bat-eared foxes and surricates of Lindbergh Lodge
Tiger-fishing on the Upper Zambezi (above the Victoria Falls)
Visit to the Victoria Falls
Ride on a mokoro in the Okavango Delta
Fly in a hot-air balloon in Big Five country near Hoedspruit
Hike the Fish River Canyon
Most of our theoretical training is done at our campuses in the Bospoort area (between Ottosdal and Lichtenburg). Here we use Sancia Lodge and Steyn's Lion Lodge, but we are also busy putting up another lodge in the Bospoort area, which will be finished June/July 2016. Both Sancia Lodge as well as Steyn's Lion Lodge have game camps where we do our practical sessions during the theoretical phase.
We also do theoretical training at Lindbergh Lodge to the south of Wolmaransstad. With its beautiful camel-thorn trees it is also known as South Africa's "Serengeti". It is a very popular venue for film shoots as well as overseas publicity companies use it for shooting infomercials with a typical East African flavour.
For more information on the Complete Professional Tourist Guide Program in South Africa, please write an e-mail to info@studygroupeu.eu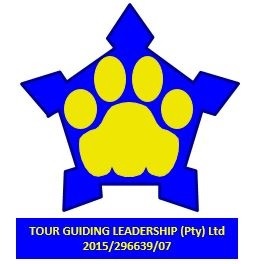 Study at Tour Guiding Leadership
Any student interested to enrol on The Complete Professional Tourist Guide Program, must be able to speak English. For students with mother tongue Spanish, Italian and German, who can speak English to a certain extent, but not quite fluently, Kjeld will be able to accommodate you on this program, as he will be able to bridge the gap you might still have in understanding the learning material. By the end of this program, you will be fluent in English as well.
Please bear in mind we have a comprehensive Language Laboratory, where you can learn to speak, other than English which you should be able to speak to come on this program, another South African Language like Afrikaans (similar to Flemish and Dutch), or else one of the black languages like Zulu, Xhosa, Tswana, Swazi, Tsonga, Northern Sotho, Southern Sotho, etc.
What we offer to foreign nationals, is to do The Complete Professional Tourist Guide Program, but we are not registering you with the South African authorities for the CATHSSETA and SAQA accredited courses - we offer these to you as an "Enterprise Standard" qualification and "In-House Qualification" of Tour Guiding Leadership.
Placement
At the end of the 18 months, and the learner is proficient and competent in all aspects of our training, we will assist the new guides of Tour Guiding Leadership with placements at selected safari lodges or assist them to get involved in a combination of both culture- and nature tourism tour operators.
At the end of the 18 months course, you will get a Tour Guiding Leadership Certificate, and you also don't need a work permit for South Africa to do this course, as you will not be earning a salary. The Complete Professional Tourist Guide Program will give you all the know-how and skills you will need to guide in various countries in Africa.
Course Duration
The Complete Professional Tourist Guide program is scheduled over 3 semesters or phases.
Phase 1: 5 months including placements for practical. Course date starts 15 February 2016
Phase 2: 5 months including placements for practical. Course date starts 25 July 2016
Phase 3: 5 months including placements for practical. Course date starts 16 January 2017
It is important to note that when learners are placed at lodges doing practical, they are not earning a salary, only tips from guests.
Cost for training courses per semester – Euro 6.000.
(We are in the process of registering for the 14% VAT, so the early bird students who register early, might be lucky enough not to pay 14% VAT for the first semester. Our company doesn't focus solely on training, but also on certain tourism activities, therefore we must register for 14% VAT)
This cost excludes food and accommodation:
Accommodation/ per person sharing –Euro 2.000/ semester
Food/ person – Euro 2.000 / semester
We focus strongly on "Boskos and Fine Dine" – the quality of the meals is of a good standard prepared by our chefs, and definitely not budget meals. "Boskos" means food we prepare around/on a campfire, without any electricity.
Practical Tour Cost / semester – Euro 1.500